Cicadas and swallows
Thursday, July 22nd, 2021
I don't think that I've heard cicadas since I was a boy in Oklahoma. I never recall hearing them when I lived on the East Coast and certainly not in California. Here in Italy I'm told that they are present every year. This is only my third summer and I don't remember ever hearing them here even though the previous 2 summers I was certainly around trees here and in Torino. In any case it's really pleasant although if I lived somewhere where there were a lot of trees the sound could become pretty annoying.
Regarding the swallows, it's a similar story. I think that I saw a few of them when I was growing up in Oklahoma but never remember seeing them after that. It's a real pleasure to watch their flight. Often they go around like little fighter plane squadrons catching little insects on the fly.
The first year I never saw them here in Bologna but saw them almost every day in the late spring and summer when I was in Torino. When I changed houses last year in late May I was stunned to see lots of swallows around via Santo Stefano. By now I don't see them near where I live but a couple of days ago when I was in the very center of Bologna I saw a lot of them near the "Due Torre". One of the most recognized symbols of Bologna (the others are the fountain of Neptune and the Sanctuary of San Luca).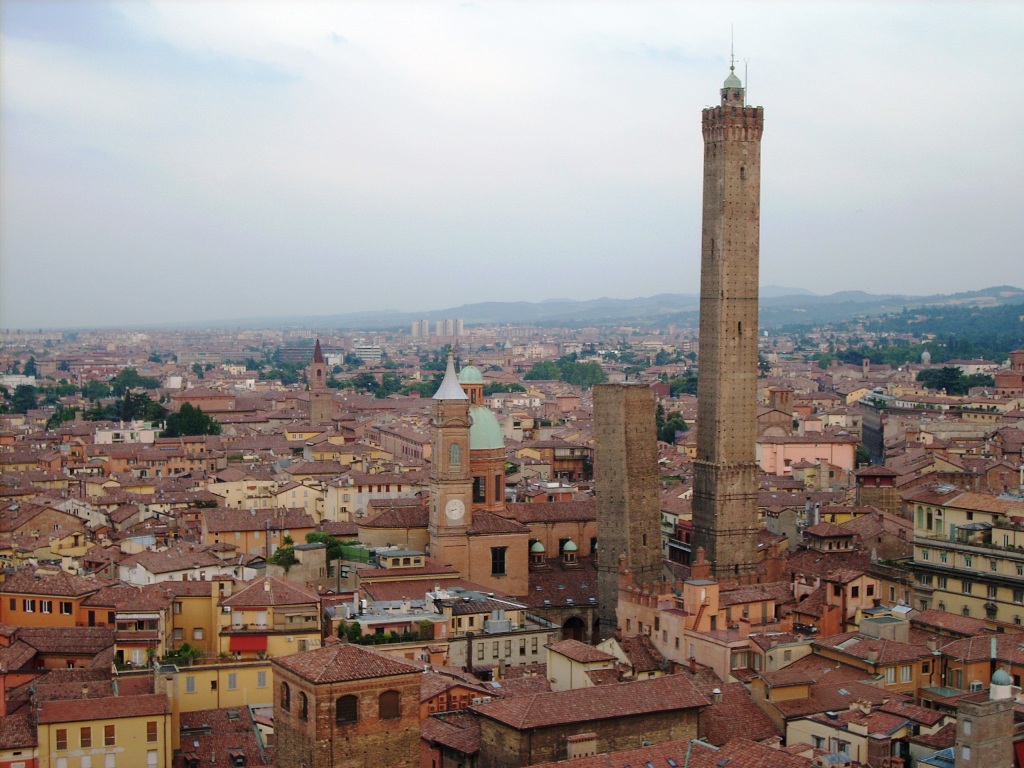 Most of Italy is a bit more relaxed here pandemic wise but I'm getting a bit concerned to see the numbers of infections going up a little bit every day. It's feeling a lot like October of last year when they were edging up and then formed a huge second wave that locked everything down. There are fewer vaccine hesitant people here and anyone over the age of 12 is eligible to be vaccinated BUT the supply of vaccines is still limited so the wait for a vaccination appointment can be pretty long. All of my friends are now fully vaccinated including Gianluca who was infected and now after having been vaccinated he's probably super-immune. The overall fully vaccinated percentage of Italians as of this writing is almost the same as for Americans, 45%, and the goal is to have 80% by the end of September. That would be great and it seems that the U.S. may never achieve that goal due to the politicizing of the vaccine and the huge amount of disinformation. Still when I go back to California for a visit in September it should be pretty calm there.
Speaking of travel I now have a "Green Pass". In my case it indicated that I've been fully vaccinated. I have a copy in my cell phone and I will take a paper copy with me just in case.
It's a typical Bologna summer, hot and humid. Unfortunately the house doesn't have a practical air conditioning system so we are relying on fans which makes it at least tolerable. When I say a "practical" system I must explain. Like most residences in Italy the heat for the house is supplied by the water heater (they are all tank-less and called "caldaie") that goes through radiators.
When they restructured this apartment they used a specific type of radiator (for most of them anyway) which has a built in fan to heat up the space faster. Great idea. Then they decided that since they had that structure in place that could install one MONSTER air conditioner that can run cold water through the same pipes to supply the air conditioning.
The problem is (and we were warned by the realtor) that it is terribly inefficient and takes the better part of a day to cool the house and costs a fortune to use on a regular basis. So effectively the house is just not air conditioned. After the first month of summer we kind of get acclimated.
Just to change the subject I look often for other Italian musicians and I think that you might like Zucchero. He sings in both Italian and English and I like the way he sings. I had a hard time finding a good video. I really like "Diamante" (Diamond) and "Senza Una Donna" (Without a Woman). Which are both about half English and half Italian but couldn't find them. So "She's My Baby" will have to do.
And of course a bacci, quote or in this case 2:
Life is not about waiting for the storm to pass but learning to dance in the rain.
La vita non è aspettare che passi la tempesta ma imparare a ballare sotto la pioggia.
Mahatma Gandhi
The secret of happiness is not doing what one likes, but in liking what one does.
Il secreto della felicità non è di fare sempre che si vuole, ma di voler ciò
che si fa.
Lev Tolstoi
Speaking of doing things. I have acquired a hobby during the lock down of doing a little urban gardening. If interested in finding out more you can leave a comment and I'll let you know more.😉