MAST – ANTHROPOCENE
Monday, January 6th, 2020
First I'll explain the title. MAST is an acronym for Manifattura di Arti, Sperimentazione e Technologia (Manufacturing of Art, Experimentation and Technology) founded in Bologna. Anthropocene is the proposed name for the current geological epoch when man has a major impact on the earth. MAST has some very interesting exhibits and you can learn more about the organization by following this link. I imagine that you might find it interesting.
I had noticed this in a listing of events happening in BO (Bologna) and that it's last day was the 5th. So I went there with my friend Gianluca on the afternoon of the 4th at around 4 PM. Well, below is what I saw as we approached.
Well, we decided that it was probably not worth the wait so I decided to come back the next morning at 10 AM when it opens. So the next morning I arrived at 10:10 and here is what I saw.
Well, that's the same photo but it's also true although while it still went around the corner there were fewer people and in fact the line moved pretty fast and I was inside in about 15 minutes.
So before moving on to the exhibit, I was really taken with the architecture.
There were various items to the exhibits but the most stunning things were the photos and videos. I can't share the videos other than still images of them but I think that you'll like the photos.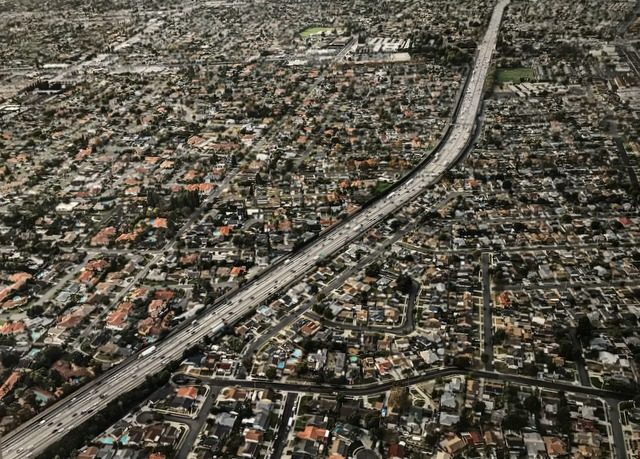 There were 35 photos in all so this is only a sample of those that I thought the most impressive. They all express in one way or another the changes being made to the planet by us. Not always negative but, let's face it, you really have to look hard sometimes to find the positives.
Speaking of positives, I have more to say about the building. For one thing there was a bidet in the men's bathroom. Every household or hotel bathroom has one but I'd never seen a public restroom with one.
Then there was the atrium as I was leaving the exhibit.
And another sculpture and pool.
I hope you enjoyed the post. So if you ever run across an exhibit by MAST, I recommend that you take a look.